Blood & Whiskey #19
Q&A with Dani Shapiro; Spotswood's Pentecost & Parker; George Simenon binge; end-of-year lists; holiday cocktails, an X-mas playlist, and a whiskey-book giveaway.
Hello friends and readers,
A bit of flu-crud mucked up my schedule this month, so this is coming to you a few days later than usual (for anyone keeping track)… I'm sure you're all running around, shopping, shoveling, prepping to travel, so let's get right to it.
---
Signal Fires, by Dani Shapiro
As a writer who's dabbled in memoir, I've long been a fan of Shapiro's first-person and deeply personal storytelling. Her previous book, Inheritance, was a gut-puncher and if you're a writer you should have her Still Writing on a shelf.
Shapiro started her writing life as a novelist and with Signal Fires she returns to fiction, the story of three teens in a car at night and the wreck that ripples through the lives of two families. It's not typical Blood & Whiskey fare (no guns or crooks, though a fair but of drinking), but since it ranks among my favorites of the year I decided to reach out to Dani with a few questions…
-You write often, and movingly, about family - in memoir and fiction. Family dramas are as old as storytelling itself (the bible and all), but why do they never get old? 
The ecosystem of family — how we love each other, wound each other, protect each other, grieve each other — is such rich terrain, and it's terrain we all inhabit no matter our circumstances. We all come from a mother and a father, whether we were raised by one of them, or both of them, or neither. We all are products of history. 
-In Signal Fires, we spend a lot of time looking up - at the stars and galaxies that are Waldo's obsession and comfort. Did that require research on your part, or are you star-literate? Either way, what do the heavens above represent for you? 
I was not star-literate when I began Signal Fires. I had moved from the city to the country, away from all that light pollution, and became curious about constellations. I discovered an app called StarWalk that traces constellations using whatever coordinates you plug in — time, date, place. I found that to be such a beautiful, poetic idea, that it's possible to know what was happening in the cosmos during a particular moment in the past. The character of Waldo emerged out of my fascination with the app, and imagining it in the hands of a brilliant, eleven-year-old boy who finds comfort in the stars. As for what the heavens above represent for me, I find the vastness of that cosmic blanket comforting, as does Waldo. 
-I think many of us have those moments from our teens that stick with us and resonate ever after, for better or worse. How did you latch onto the moment that changed and rippled through the lives of every character in this book?
When I first began work on Signal Fires, I did not yet know exactly what that moment was, though in retrospect it felt inevitable. I was (and am) particularly interested in the way that a tragedy can be absorbed by a place, over time. Signal Fires opens with a terrible accident that takes place on a summer night in 1985, but most of the book takes place in the decades that follow. Families move into the neighborhood who have no idea that a tragedy occurred there — so does this somehow erase what happened, or does something linger? Certainly it lingers within the characters who experienced it, and whose lives are forever haunted by what happened, and also by the secrets they keep. So many of us — too many of us — have a moment in our teens during which our innocence is stripped away from us, and those moments do stick with us, even if our relationship to what happened is only tangential. Because we're so young, we absorb it. But in the case of the teenagers in Signal Fires, it's a burden they carry that shapes their adult lives. 
-A theme that seems to repeat throughout the book is something like: everything is happening everywhere all at once. I hear variations on that in yoga and meditation. It's a powerful idea, a suggestion that we (like stars) never entirely cease to be. Is some version of that something you believe and practice in your life?  
On my best days, this is something I believe. My whole adult life has been informed by the early loss of my father, and his sudden death certainly nudged me in the direction of thinking metaphysically, especially in my initial grieving. But that said, I have felt him with me countless times. If energy cannot be created nor destroyed, where does it go when it changes shape and form? I poured a lot of these ideas into the characters of Waldo, and also Dr. Benjamin Wilf — they're each philosophers, in their own way, though on the opposite ends of the spectrum of life.
-Can you briefly describe the emotions associated with coming back to fiction? And, if you're working on something new… fiction, memoir, other?
Oh, it was pure joy to come back to fiction. I always assumed I would return to fiction, and yet these memoirs kept tapping me on the sternum, demanding my attention. When I made the discovery that lead to my last memoir, Inheritance, I finally felt that I had completed a particular body of work. Not to say that I won't write memoir again, because I likely will — but that body of work, in which I was excavating, as it turns out, the very facts of my own identity? That work is done. Right now, I'm working on a few film projects. I've adapted Sue Miller's last novel, Monogamy, as a feature film and the magnificent Holly Hunter is set to star in it. And I have my podcast, Family Secrets, which involves a fair amount of writing and storytelling. But my main focus right now is writing the television pilot for Signal Fires, which is in development. It's thrilling to be able to continue to live with these characters and expand their lives beyond the pages of the book. 
—What books lately have wowed you - especially anything dark or crime-y? 
Claire Keegan's Small Things Like These is fantastic, and quite dark, perhaps in its own way crime-y. I loved Richard Powers' Bewilderment, and I am very eager to read two novels coming out this spring: Jenny Jackson's Pineapple Street and Ann Napolitano's Hello, Beautiful. 
What one book (new-ish or old) should we all read in the new year?
I think we should all look at videos of puppies snuggling with babies. Oh wait… that's not what you asked. How about a novel that slays with its quiet majesty: Willa Cather's My Antonia.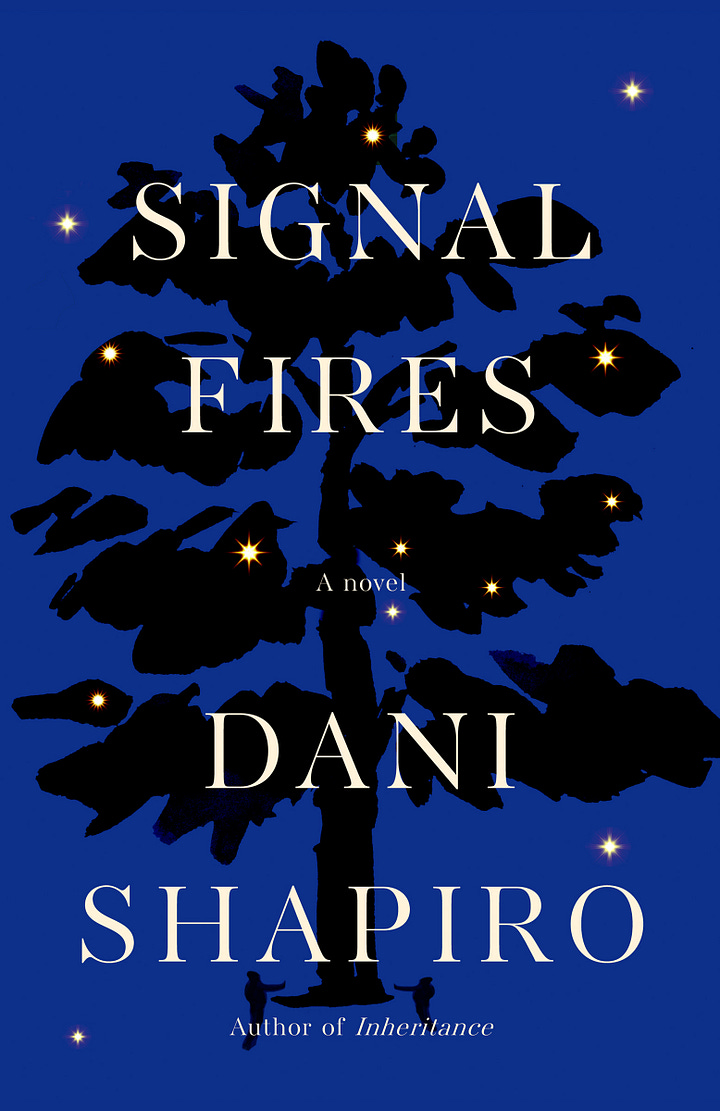 ---
Pentecost and Parker
Secrets Typed in Blood, the third novel in this fun late-1940s NYC-based series from Stephen Spotswood, was a blast, again featuring the investigative duo of Lillian Pentecost and her sidekick, the feisty former carnival knife-thrower Willowjean "Will" Parker. A twisted killer is copycatting the fictional murders that appear in writer Holly Quick's pulp magazine stories. As with the first two books, the real fun is watching Pentecost (suffering from multiple sclerosis) and Parker hash out their clues and theories, spar with the cops, muse on the weaknesses of man (and, often, men). As Parker puts it, "That's what it always seems to come down to: Men who think the world's shortchanged them, and that they can murder their way to even." The folks at Shelf Awareness recently did a great Q&A with Spotswood.
---
George Simenon
I've been working my way through a stack of these perfect little single-sitting paperbacks, recently retranslated and reissued by Penguin. The French writer Georges Simenon wrote seventy-five novels featuring Chief Inspector Maigret of the Police Judiciare in Paris. Like Louise Penny's Inspector Gamache, Maigret is a shrewd, old-school, trench-coated crime solver. He's happily married and semi-famous. He's pompous, moody, and always a step or two ahead of everyone else. The stories can feel a bit jagged and jittery, a twitchy pace — but in a good way. Simenon is good with rainy streets and gray skies, sadness and heartache. It feels like most of the action happens after dark. The bad guys and gals aren't savvy crooks but wounded and desperate souls. (For more, Adam Gopnick recently wrote an excellent profile of Simenon in The New Yorker.)
---
The bestest…
A flurry of Best of the Year lists have come out in recent weeks. (I'm of course partial to Amazon's, which listed The First Kennedys as a best of '22). Among the crime novel lists, there's the New York Times (including the new Spotswood), Barnes & Noble, the Washington Post, and CrimeReads (this is the best best-of list — I want to read them all). To fill in some blanks, I reached out to the good folks at the excellent Edmonds Bookshop. Thanks to Elaine Mattson (who admits to being a big fan of the exclamation point!) for sharing a few faves:
The Investigator, by John Sanford — At age twenty-four, Letty Davenport has seen more action and uncovered more secrets than many law enforcement professionals. Bored in her desk job, she accepts an unusual offer from her Senator boss: to be a boots-on-the-ground, under-the-radar investigator working with the Department of Homeland Security.  She is partnered with an experienced DHS investigator and they head to Texas where the case, involving several oil companies, quickly turns deadly. Turns out that Letty totally kicks ass — no surprise knowing who her dad is!* Fantastic start to a new series! (*Letty's dad is Lucas Davenport, star of Sandford's "Prey" series.)
Billy Summers, by Stephen King — A military-trained sharp-shooter turned hitman with a strict moral code (he'll only do the job if the target is a truly bad person) reluctantly takes one more job... He is worried — in all his favorite movies, when someone takes "one last job," things usually go horribly wrong. Sure enough, complications ensue. With elements of luck, fate and love, this is a completely gripping thriller. Those of you who don't usually read Stephen King — there is none of his usual supernatural/horror themes (one nod to "The Shining" but only for those of us in the know...; ) This is an amazing page-turner with a complicated main character. Loved it!
The Apollo Murders, by Chris Hadfield — 1973: NASA is about to launch Apollo 18. While the mission has been billed as a scientific one, flight controller "Kaz" Zemeckis knows there is a darker objective. Intelligence has discovered a secret Soviet space station spying on America, and Apollo 18 may be the only chance to stop it. Their top-secret assignment: break the secret Soviet spy satellite on the way to their moon landing. Complications ensue: three astronauts; a tiny spaceship; a deadly accident; undercover spies; scheming Russians… all a quarter million miles from home! This is astronaut/author Hadfield's debut thriller.  Hadfield is the astronaut famous for his zero-gravity version of David Bowie's Space Oddity! And don't miss the fascinating author's notes. A very well-done twisty page turner!
---
Holiday cocktails…
I didn't think one drink was sufficient for the holidays. Here's three…
1. Black Manhattan
According to Imbibe magazine, this one was created in San Francisco, replacing the usual vermouth with Averna, a Sicilian amaro. (Goes well with the new season of White Lotus.)
2 oz rye whiskey

1 oz. Averna

dash of Angostura bitters and 1 dash orange bitters

Shake with ice and strain intoi a chilled coupe glass. Garnish with cherry
[*note: many variations on this one. You could also try the Night Train — replace the Averna with 1/2 oz Cynar amaro and 1/2 oz. Ciociaro amaro. Use an orange peel garnish instead of the cherry.]
2. The Secluded Cabin
From author Lisa Unger (interviewed here last month), here's a cocktail inspird by and named for her latest book, Secluded Cabin Sleeps Six:
2 oz bourbon (Lisa recommends Blantons)

1 oz. Fever Tree ginger beer

3 dashes orange bitters

Serve over a single large cube with orange peel garnish
3. Thanksgiving Sour
Don't worry: it works just fine for Xmas or New Year's, too. This one comes via one of my favorite newletters, Cocktails with Sluderman.
2 ounces infused brandy*

3/4 oz. simple syrup

3/4 oz. fresh squeezed lemon juice

1 dash Angostura bitters

shake with ice and strain into a coupe or Nick & Nora glass.
*For you cocktail nerds, this one requires some prep work to create the infused brandy, which Sluderman describes here…
---
Giveaway
If you're looking for a gift for the whiskey-sipper in your life, I'm donating these two books, American Whiskey and The Whiskey Cookbook — both by the editor of Whiskey Reviewer magazine (thanks Richard!) — to the first person to share this issue of Blood & Whiskey with their social crew. To enter, post a link via Substack, Twitter, Instagram, or Facebook and I'll DM the winner.
---
Holiday playlist…
Back in the age of CDs, I'd burn an annual gift mix for family and friends, dubbing most of them the "Put the X Back in X-mas Mix." It's bizarre how the physical act of making a CD mix (and mixtape cassettes before that) has disappeared, how Spotify and the rest have made it easier (but less intimate?) to share tunes. Whatevs, boomer… Here's my 2022 "Put the X Back in X-mas Mix" for you — a sampling from those old CD mixes, circa late 2000s:
---
Finally, a quick year-end update… Some time in early 2023, as this newsletter nears two years of publishing monthly, I'll be trying some new things: shifting to twice a month or even weekly; adding exclusive content; introducing paid subscriptions for those who want even more B&W. I've realized that many of these are getting quite lengthy and I should break them up.
Until then, please send suggestions for anything you'd like to see more or less of. And if you've enjoyed B&W so far and would like to support my writing, consider… buying me a coffee? Happy holidays! See you in '23…
-Neal
Find me on Instagram; sometimes on Facebook, Twitter, LinkedIn, Goodreads